Transform your production
AGV-supported automation concepts with DIOSNA
You are in search of innovative automation technology for your production? Our AGV solutions are the answer! The term AGV (Automated Guided Vehicle) describes a driverless, floor-bound transport vehicle. Equipped with state-of-the-art navigation systems, AGVs transport raw materials and products with precision and efficiency within defined workflows.
Become part of the logistics revolution!
Innovative dough production with automated transport systems
AGV concepts offer numerous advantages for your production! In addition, you benefit from our DIOSNA system integration.
Efficient: AGVs operate continuous and autonomous
Flexible: Solutions with low and high lift function
Innovative: Cost-efficient, optimised room concepts
Functional: Seamless integration into existing systems
Adaptive: Retrofit and capacity upgrades optional
Safe: Equipped with cutting-edge security features
Get your free consultation now!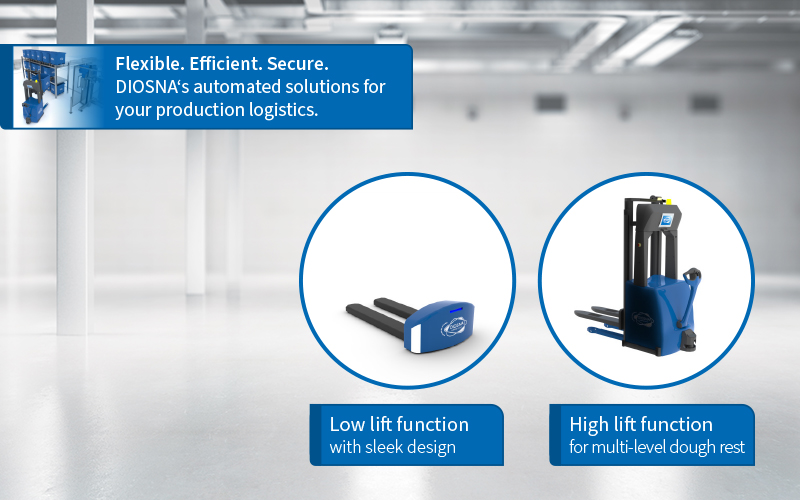 How would you like it then?
Flexibility all along the line - We can provide you with AGVs with low-lift or high-lift functions. This is based entirely on the individual conditions of your production in order to design a demand-oriented and well thought-out comprehensive solution.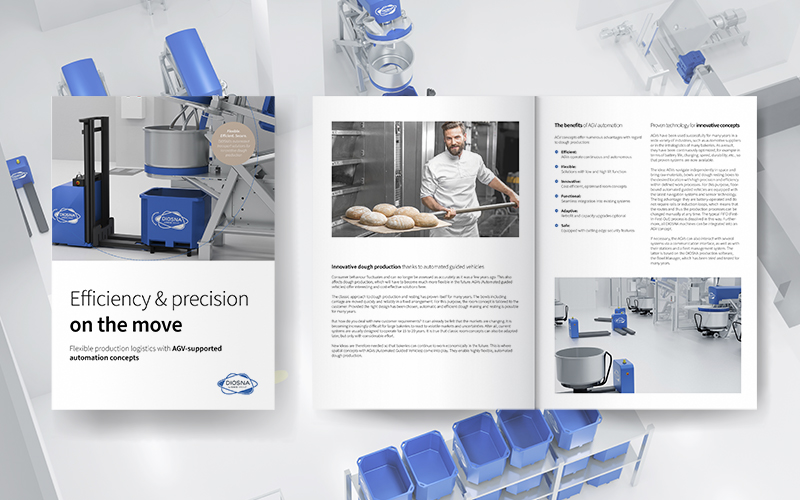 Free whitepaper download
Download our whitepaper about innovative dough production with AGVs - packed with expert knowledge and bring your production to a new level.
Learn more about:
Proven AGV technology for innovative concepts
Room concepts from a new perspective
Cleaning and repair: no downtimes
Download whitepaper now