After Sales
Holistic solutions for smooth operations!
We are at your side as a holistic solution partner, because we know that your requirements for premium quality do not end with commissioning, but also continue thereafter. In addition to our diverse product solutions for food and pharmaceuticals, you also benefit from the support of our team of experts with numerous services. Our team of experts will help you ensure that your production runs efficiently and without interruption and that your product quality always remains at the highest level. With first-class DIOSNA support, you benefit from in-depth knowledge and wealth of experience - worldwide.Update your existing equipment with the latest technical and technological standards with our upgrade options. In addition to qualifying the systems, you can also take advantage of our user training so that you can optimise your processes and exploit all the possibilities of the installed technology.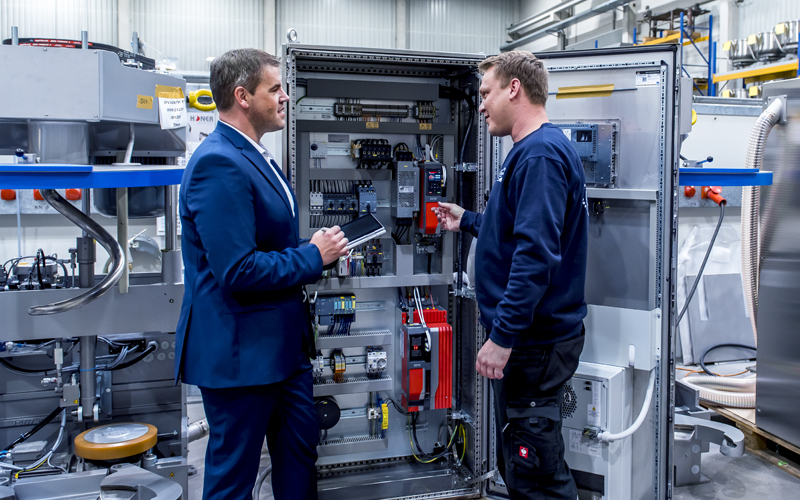 Service is our most important product!
Our quality standards are high. We offer a wide range of services from technological service to quality management and after-sales service to webinars and seminars.
Our service team will be happy to help you!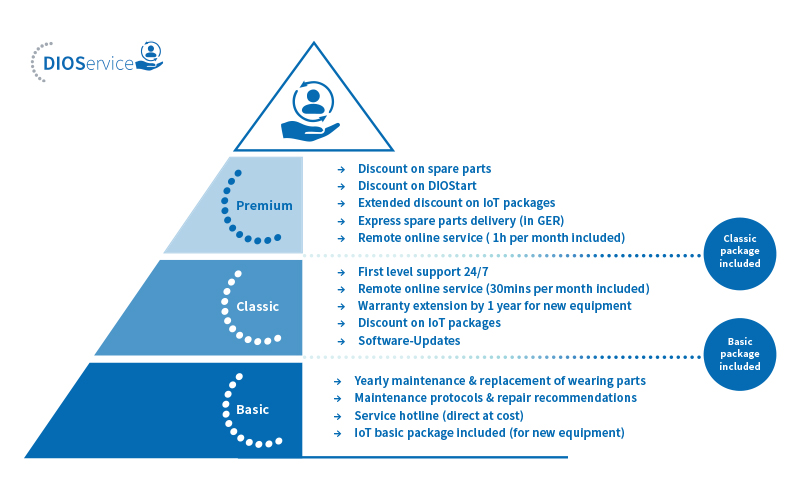 Customised service bundles
Basic, Classic and Premium
Are you looking for optimal solution for your individual requirements? No problem! Choose between three different bundle solutions:
Our Basic bundle is a simple solution that covers all basic functions and is ideal for getting started.
In addition to the basic package, the Classic bundle offers expanded options to meet increased requirements.
The premium bundle offers the highest level of service.
Please feel free to contact us to discuss the package that best suits your needs.
Learn more
Completely tailored to your needs- choose your appropriate maintenance and remote service level from three different service packages
Technical customer service

Fault analysis via hotline

Spare parts delivery

Installation & commissioning

Technician deployments worldwide
Upgrade PC system

Upgrade PLC system

Upgrade HMI & P#process visualisation

Upgrade network connectivity, process data processing & IoT (Food)
Retrofit of existing systems
Solutions for (automatic) kneading and predough machines
WIP / CIP systems
Granulation/liquid dispensing systems
Process air technology
Air gap sealings
Process monitoring/PAT systems
WIP/CIP systems
Drives
Safety equipment/explosion-protection
Extension of existing machines
Maintenance contract
Technological qualification
Factory Acceptance Test (FAT) and Site Acceptance Test (SAT)
Qualification package with PC control systems (IoT)
Qualification Plan
Design Qualification (DQ)
Factory AcceptanceTest (FAT)
Risk Analysis (e.g. FMEA)
Installation Qualification (IQ)
Operational Qualification (OQ)
Change controls and requalifications
Qualifications as per GAMP 5
Qualification package with PC control systems
User training at your site
DIOSNA DIOlab for testing existing or new processes
Validation, e.g. of production, or cleaning of machines (Pharma)
DIOSNA experts show you optimised performance for your production
Contact us!
Via the contact form, our service hotline +49 (0)541 33104 640 (from Mo-Fr 8:00 a.m. – 4:30 p.m.) or via mail to service@diosna.de