Fluid-bed processors
- Powerful and versatile -
The multifunctional fluidized bed processors from DIOSNA are the ideal solutions for laboratory, pilot and production scale. With drying, agglomeration and coating, they combine several processes in one system, which has a positive effect on your business in many ways. Increased profitability while taking up less space, easy handling and a range of individual options are among the most important advantages of our solutions. Based in Osnabrück since it was founded more than 130 years ago, the company is now one of the world's leading suppliers of pharmaceutical production systems. Not only manufacturing professional machines, but also providing a comprehensive customer service is at the core of our business, which puts your customer satisfaction first. Read on to learn more about our versatile fluidized bed processors.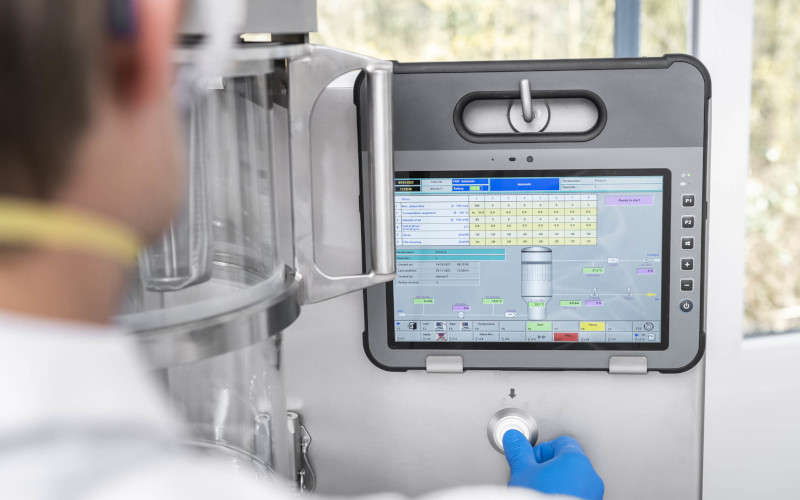 Built for Your needs: Our fluid-bed processors
Our product portfolio covers a wide batch range from 0.2 to 880 kg to cover all stages from development to batch production with the fluidised bed processors "made by DIOSNA". While the compact systems MINILAB RC and MIDILAB RC are ideal for research, the solutions of the CAP series are created for later batch production. At DIOSNA you will receive all the systems that are required for the manufacuring of the pharmaceutical product. All fluidised bed systems show convenient operation, compact design and durable constructio regardless of their size. This interaction results in an optimised production process that saves both time and money with outstanding results.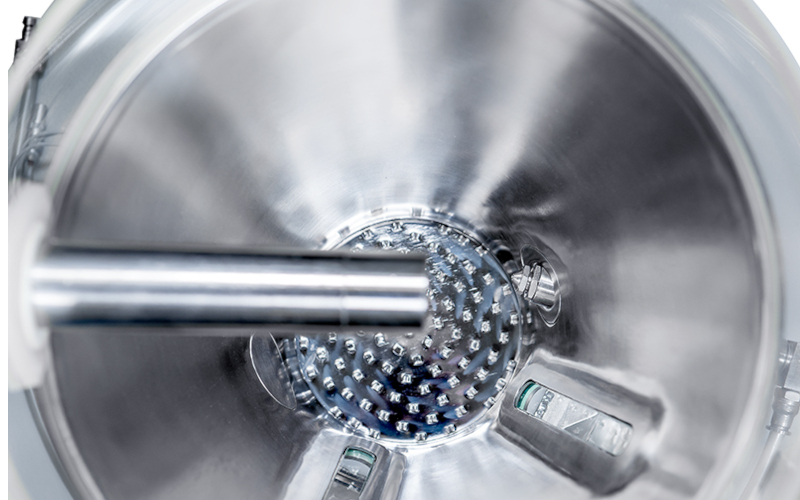 Fluid-bed processors for
rapid development
The MIDILAB RC mobile laboratory fluidised bed system is designed for flexible batch sizes between 1 and 10 kg and is available in a variety of different versions. Thus, you get a solution tailored to your personal requirements, which allows for fast product and process development. While the compact design, the easy access to technical components as well as the swivelling and tilting material hopper ensure excellent suitability for everyday use, the partly automatic cleaning of the basic version saves you valuable time. You can choose from four interchangeable containers, each with a capacity of seven, twelve, 16 and 20 litres. In addition, further options are available for solvent operation and various containment applications. As with the smaller MINILAB RC model, convenient operation is by default via a graphic display that can be swivelled and tilted. The mobile MIDILAB RC also offers an exchangeable coater module.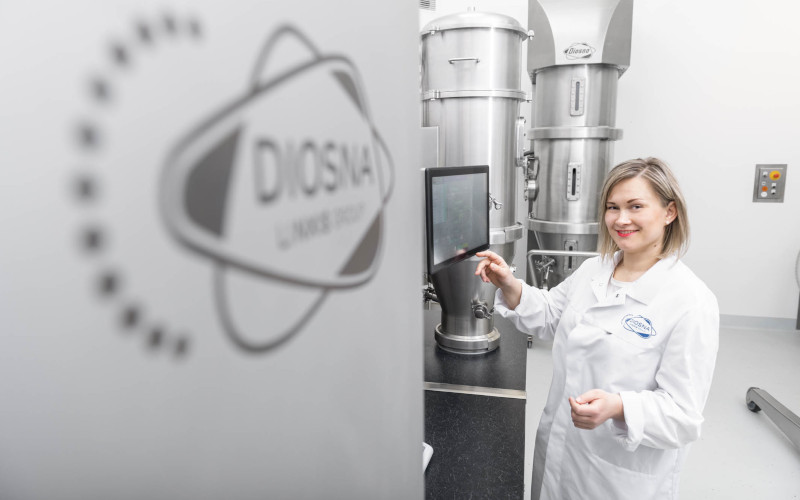 CAP 10 - 80 RC: Fluidised bed system with Rapid Change
Whether agglomeration, drying or coating: all processes are continued in the DIOlab after the laboratory and thus come one step closer to series production. The fluid-bed processor CAP 10 - 80 RC was created especially for the pilot plant and is characterised in particular by a fast container change, the "Rapid Change", because the containers are located on a practical trolley. In addition, the system stands out due to its low overall height, which makes it suitable for use in rooms with low ceiling heights. Thanks to the swivelling centre section, easy access to the filters is possible, resulting in an uncomplicated maintenance process. Due to the automation of all processes as well as the storage of recipes, the CAP 10 - 80 RC contributes massively to the simplification of individual work processes. Optionally, you can obtain additional material containers in two sizes, GMP-compliant loading and emptying as well as personalised containment versions.
Fluid-bed processors
for the production
Available in eight sizes from 200 to 2,200 litres of material hopper volume, the CAP 150 - CAP 1800 machines offer the right solution for any size of operation. While the "through-the-wall" installation ensures a clear separation of the production and technical areas, the entire system is controlled with the aid of a graphics-capable PC. Thus, the models offer high productivity of your operation on the one hand and uncomplicated handling on the other. Our wide range of matching components, including pelletising liquid tanks, calibration mills and vacuum conveying systems, enables customisation to your production process. The range of optional equipment includes a swivelling material hopper, containment solutions for highly active substances and the choice of filter type. In addition, individual supply and exhaust air systems and WIP/CIP cleaning are available. But no matter which equipment you choose: Every system in the CAP 150 - CAP 1800 range maximises the productivity of your operation through first-class fluid-bed technology and practical features.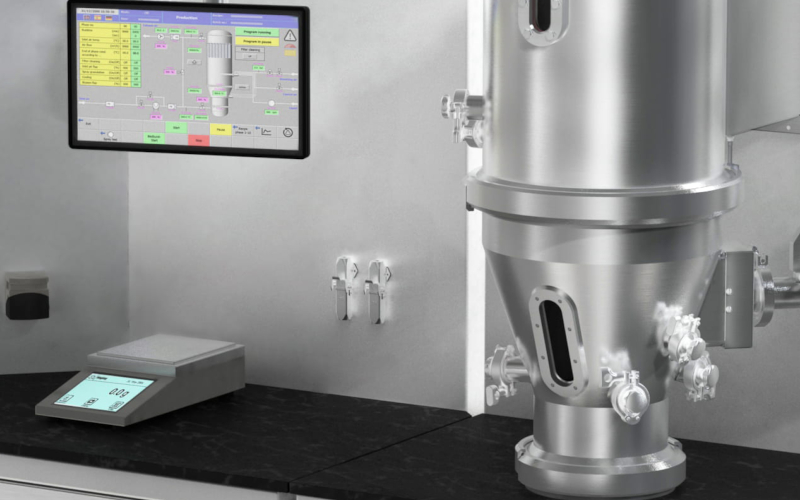 Multifunctional solutions
from DIOSNA
In addition to our fluid-bed processors, we as PharmaExperts offer you a variety of other systems that are capable of carrying out several work steps. Our high-shear mixers, which enable the production of dry blends and moist granulates, are particularly popular. If you want to combine the advantages of our fluid-bed technology and high-shear mixers in one solution, the granulation line is an excellent choice. DIOSNA has the right equipment for all processes in the pharmaceutical industry. Our customers benefit from the highest functionality, cost-effectiveness and quality, from the first laboratory test to large-scale production.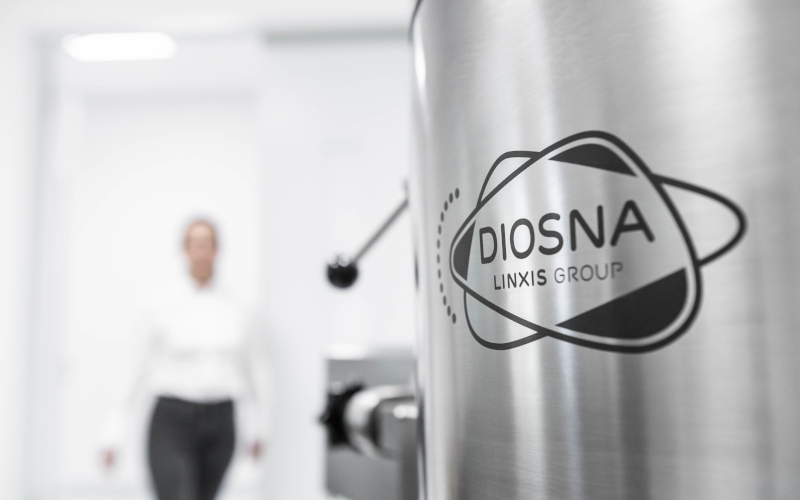 Do you have any questions?
We will help you!
Are you interested in our fluid-bed processors and thinking about purchasing them? Feel free to contact us! With DIOSNA, you not only decide on the physical machine, but also receive the knowledge of our experts at the same time. In addition to technical support, our range of services also includes our repair and individual maintenance service, the calibration of your systems and the optimisation of the systems to your requirements. We would be happy to convince you of the quality of our products in our technical centre in Osnabrück - there you can gain your first experience in the company of our experienced experts and gain initial insights. Simply contact us and we will arrange a visit together.
Contact