Automated
Systems from DIOSNA
Depending on the customer's requirements and the task at hand, we automate our machines and systems. We are the specialists for solving our customers' requirements, from manual operation to recipe functions to fully automatic expansion by means of PLC control incl. connection to PPS systems. Our controls not only operate and monitor the function of the machine, they also monitor the production process and support the baker in his obligation to product quality and documentation. By connecting to the production management or taking over the production management, we help the baker to control and monitor his daily work. The term IoT (Internet of things) describes the increasing, global networking of machines, technologies and user interfaces and is already an indispensable dimension in sustainably oriented business management, Become part of the digital revolution and transform your production with our IoT solution.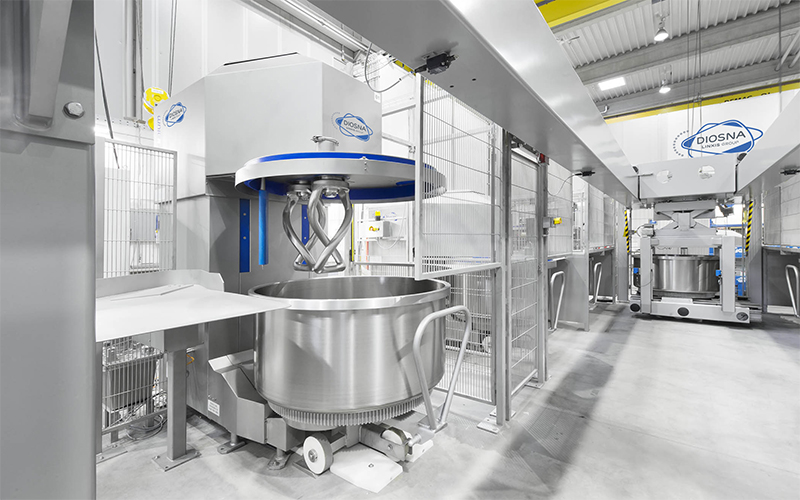 Linear transport systems
Safe transport of the kneading bowls
The linear transport system offers the highest level of automation technology through a fully automatic overall process. It allows an individual solution of the task with the greatest possible universality of the system. A special feature of the linear transport system is the top guide rail, which ensures maximum ground clearance and optimal cleaning possibilities.
Mehr erfahren
Bottom discharge
Industrialisation in the smallest space
This most compact plant design enables automatic kneading and dough conveying in one line.
The basic equipment includes one or more kneaders with bottom discharge device. The raw material is automatically fed into the kneading vat. After the kneading time has elapsed, the finished dough is discharged through the mechanical opening of the bottom discharge system. A belt conveyor or a transport system for dough containers with elevator tipper delivers the dough to the line portioner.
learn more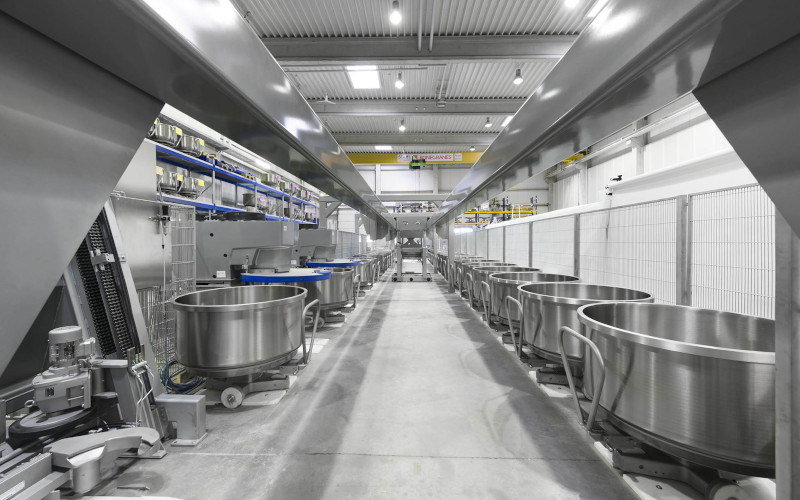 Aroma multiline
Constant pre-dough through safe processes
This stand-alone pre-dough system for swelling, scalding, cooking and flavouring is available with a capacity of 500 or 1000 kg and a TA of at least 300 depending on the raw materials and processes used.
A special feature of the DoughExperts flavouring system is the optimised process control for constant pre-dough quality.
Thanks to variable fermentation times and flexible stirring intervals, specially selected guides can be used, even for completely different pre-doughs.
Mehr erfahren